Nepal is moving agriculture from any angle possible in order to boost the economy to a large extent. The transfer of technology from innovators to farmers is regarded as a critical challenge, and various GOs, NGOs, INGOs, and CBOs are working to achieve it. Aside from these organisations, there are also a plethora of smartphone apps that serve as farmers' pocket guides. Smartphones have made application-based agriculture extension possible. Farmers can download easy apps and gain access to knowledge about problem solutions. Users now have access to knowledge and ideas at their fingertips. You can get the specifics by sliding or tapping into the desired source of information.
Here is the list of Best Agriculture Apps for Successful Farming in Nepal
1: Smart Krishi
Smart Krishi has been downloaded over 100,000 times. More than 2,000 people have given the app a positive review, and it is available on both Android and iOS. The app includes information on animals, agriculture, and farm insurance, as well as how to get it. Smart Krishi, one of Nepal's most popular agriculture apps, includes data on everything from cereal crop production to vegetable cultivation, cash crops, fruit crops, and non-timber forest products. Pest management of various crops, commercial goat farming, boar goat farming, buffalo and cow rearing, and fish production technologies are also detailed.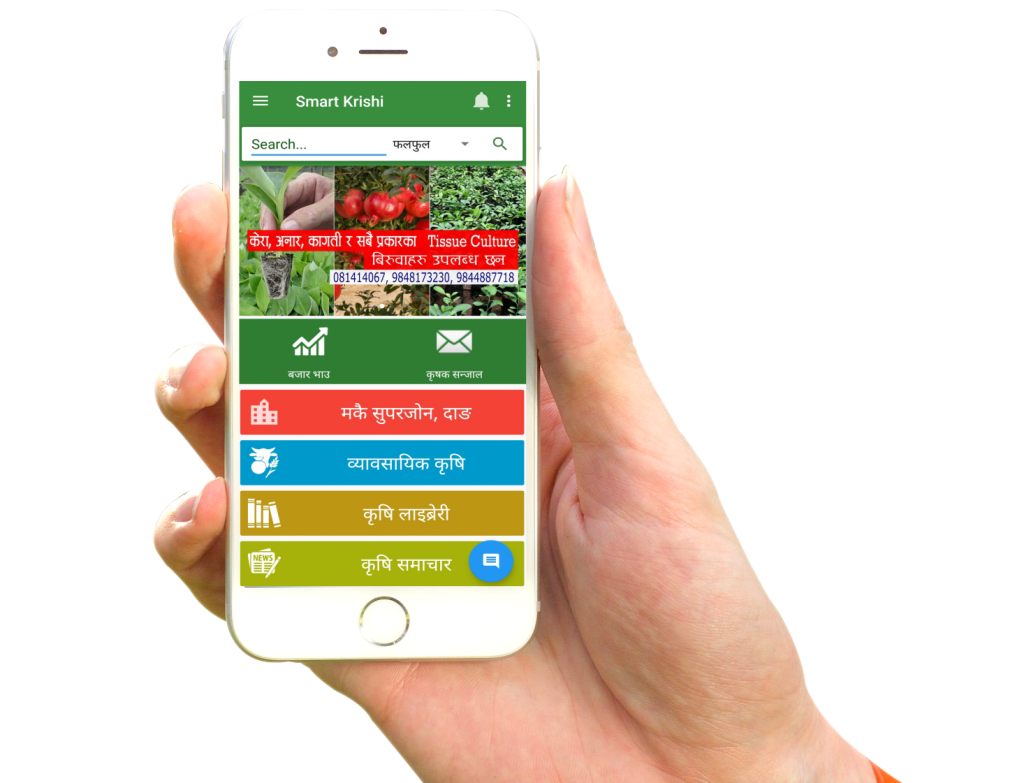 One of the most intriguing aspects of this app is that it offers a forum for farmers to connect with experts. Via "Krishak Sanjal," experienced farmers can communicate with one another and share their issues, needs, and experiences. It is a web network where farmers can find out about upcoming training programs, agricultural credit information, marketing, and so on. They also have weather forecasts as well as a regular update on agro market prices from 15 Nepalese cities. Many industrial, marginal, and semi-commercial agriculture workers and owners have this program on their phones, and they say that it can also be used on a 2G mobile network.
2: Hamro Krishi
Hamro Krishi is another Nepali agriculture app with 25k downloads, thanks to the Ministry of Agriculture and Livestock Development's Pilot Program on Climate Resilience (PPCR) project. Answers to some popular questions regarding livestock production (pigs and chickens, cows and buffaloes, and ostrich fish), cereal crops (rice, wheat, maize, finger millet), grain legumes, vegetables, fruits, and spices are included in the app's FAQs.
Hamro Krishi publishes a weekly weather-based agriculture bulletin for 26 districts across three geographic regions that may also be applicable to neighboring districts with similar topography and geography. The bulletin contains information on potential agricultural activities based on the crop and weather conditions. Performance stories, market price updates, and details about agriculture insurance are among the other features. For various geographic areas, the app also calculates fertilizer for most cereals, vegetables, spices, legumes and oilseeds, and other crops. The bulletins are put together in conjunction with NARC.
3: Krishi Guru
Krishi Guru is another useful agro app with 50K downloads that connects farmers with agricultural commodity cultivation and livestock production technology. The provision of weight measurement of livestock by measuring girth and length is an intriguing feature in this app.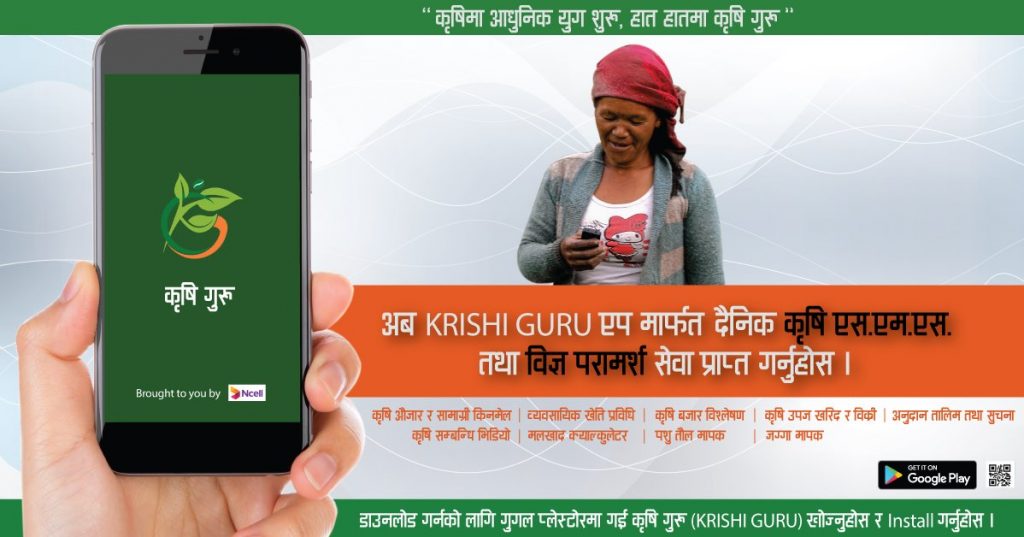 Furthermore, the farmer can synchronize the output and release of the commodity in the market at the right time using the month-by-month price trend analysis of agricultural commodities over the years. It also has a fertilizer calculation function, but it is more precise in "Hamro Krishi." Through these Nepali agricultural apps, farmers can post and send SMS to get answers to their questions from experts.
Conclusion
Other mobile agriculture applications are also available, in addition to these. NARC Krishi has received over 10,000 downloads and also offers accurate knowledge based on analysis. Krishi Kapurkot, which is run by Kapurkot RM, offers locality-specific information that is beneficial to Kapurkot's farmers and vendors. Many other agricultural institutes and agriculture divisions are developing applications that enable farmers to access all local and national information, as well as notifications issued by government agencies for farmers to evaluate at their fingertips. The app bridges the divide between farmers, experts, and market participants. Several actors are involved. Agriculture institutes, experts, traders, input suppliers, and farmers can all be connected through such applications, but they must invest more in the material.